Hollywood these days seems far more interested in remakes and reboots than in original films and TV shows.  December 25, 2018, Disney will be releasing a sequel to its beloved classic Mary Poppins.  The new movie is called Mary Poppins Returns, and it's due for a Christmas release in 2018.
As I reported in The Inquisitr this summer, the sequel will star British actress Emily Blunt as Mary Poppins and Tony-winner Lin-Manuel Miranda as Jack.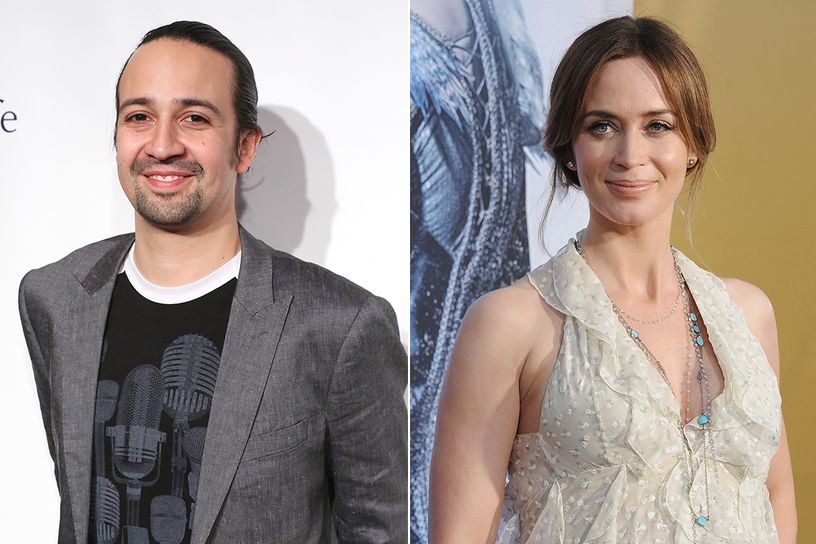 [Image via Fuse TV, from a tweet May 31, 2016]
Neither Emily Blunt nor Lin-Manuel Miranda are strangers to Disney movies. Emily voiced Juliet, the heroine of Gnomeo and Juliet, played Miss Piggy's receptionist in The Muppets, and starred as the Baker's Wife in Into the Woods. Lin-Manuel wrote music for Disney's upcoming 56th animated feature Moana and for Star Wars: The Force Awakens. He also played Shag Kava in SW: The Force Awakens and Reggie in The Odd Life of Timothy Green.
Many people don't realize that P. L. Travers wrote more than one Mary Poppins book, or that the literary version of Mary Poppins is very different from her film counterpart.  From 1934 to 1988 there were NINE Mary Poppins books, including one cookbook. As shown in the Disney movie Saving Mr. Banks,  P. L. Travers (played by Emma Thompson) was dismayed by the changes Walt Disney (played by Tom Hanks) made.
The new movie will be directed by Rob Marshall, who directed Pirates of the Caribbean: On Stranger Tides.  The songs will be written by Marc Shaiman and Scott Wittman, but it's far from impossible that rapper/actor/singer/songwriter/scriptwriter Dr. Lin-Manuel Miranda might not collaborate with them to add some lyrics or even a new song. David Magee, the scriptwriter for Finding Neverland,  will be writing the script, using Travers' other Mary Poppins books for material.
Mary Poppins Returns will be set during the Depression. Emily Blunt will recreate the role that won Dame Julie Andrews her Academy Award, the "practically perfect" nanny Mary Poppins, come to help a now grown-up Michael Banks with his children.  Broadway's darling, Lin-Manuel Miranda, will be playing Jack, a lamplighter.
[Meme via Google Images, original images via Disney]
Mary Poppins, being both magical and "practically perfect in every way," will (of course) not age from the 1964 Academy Award-winning movie to the sequel in 2018.  Some fans think this is because Mary Poppins, like the Doctor, is actually a Time Lord.  There are several stories at FanFiction.net exploring this possibility, including one where Mary Poppins is the Doctor's older sister.  Do you think Mary Poppins is from Gallifrey, or do you think she's a graduate of Hogwarts?
Are you looking forward to seeing Mary Poppins return to London?